TIME TO HAVE A COFFEE BREAK! LET'S TALK OVER COFFEE!!
Today I will write about What is coffee?
I think, maybe almost people had a coffee once before, which is black liquid, you can really easy to find any place in supermarket or convenient stores now day.
First of all, the seeds in the fruit (coffee cherries) that can be harvest from the coffee tree are coffee beans. That coffee beans are dried and roasted, and then that roasted beans are grind down and extracted by pouring hot water, it's to be a coffee. The taste will be really different depends on how extracted with or how roasted be. So that point I will write the detail on other article later.
The coffee cherries can be eat and it has sweet taste. The beginning of coffee seems to have various theories, and one of theories said that is become after the 13th century that it become current style, so it is a drink with the history more than 300 years already.
The picture below is the coffee tree and coffee cherries that I actually experienced harvesting in Japan.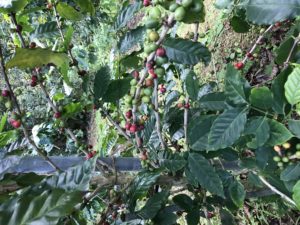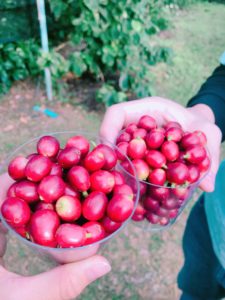 There are really limited place where you can experience to harvest coffee in Japan. Some theories said that is only in Okinawa region but some other areas also grows coffee tree privately in greenhouse.
Pure Japan coffee, it is also interesting to try once. Don't you think so? 🙂
LET'S TALK OVER COFFEE SOON LATER. see ya
今日は簡単にコーヒーとは?について書いてみようと思います。
コーヒーはもちろん皆さん一度は飲んだことがあるかと思いますが、あの黒い液体です。最近ではスーパーでもコンビニでもどこでもみかけますね。
まず、コーヒーの木からとれる果実(コーヒーチェリー)の中の種がコーヒー豆です。そのコーヒー豆を乾燥させて焙煎し、焙煎された豆を粉状にしてお湯で抽出したものがコーヒーとなります。抽出方法や豆の焙煎度合いにより味わいも大きく変わります。詳細についてはまた別の機会に詳しく書いていきますね。
コーヒーチェリーの実は甘く、実際に食べることができます。コーヒーの始まりは諸説あるようで、今のスタイルで飲まれるようになったのは13世紀以降と言われており、既に300年以上の歴史がある飲み物。
下の写真は実際に日本で自分が収穫体験したコーヒーの木とコーヒーチェリーです。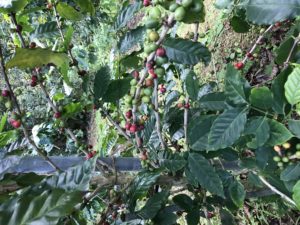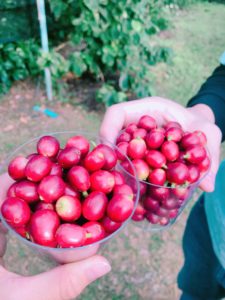 日本でコーヒーチェリーの収穫体験ができる場所は非常に限られており、沖縄地方のみと言われておりますが、本州の一部の地域で、温室で個人的に栽培されている方もいらっしゃいます。
純国産コーヒー、一度は味わってみるのも面白いですよね。
LET'S TALK OVER COFFEE SOON LATER. see ya