TIME TO HAVE A COFFEE BREAK! LET'S TALK OVER COFFEE!!
Hello everyone! Today I will write about the home coffee cupping when I did on 6th Sep 2019.
I was thinking quite long time to do this and I just started suddenly because I bought some coffee beans from some shops in same time. I will not write about which coffee shop I used, but I would like to say, roasting the beans is hard part in the coffee progress and I really respect the people who doing roasting.
At the first, what is coffee cupping? I will explain easily. COFFEE CUPPING is one of taste check. You can check the aroma of coffee and taste of coffee. Not only that, you may easily to find the taste difference when you do this more than 2 type of different coffee beans in same time.
This time, I prepare below beans. (Country, Process, Other)
I am not writing which is not on the package or which farm was it.
Kenya, Washed
Nicaragua, Natural
Taiwan, —
Colombia,– , Geisha
Brazil, —
Ethiopia, —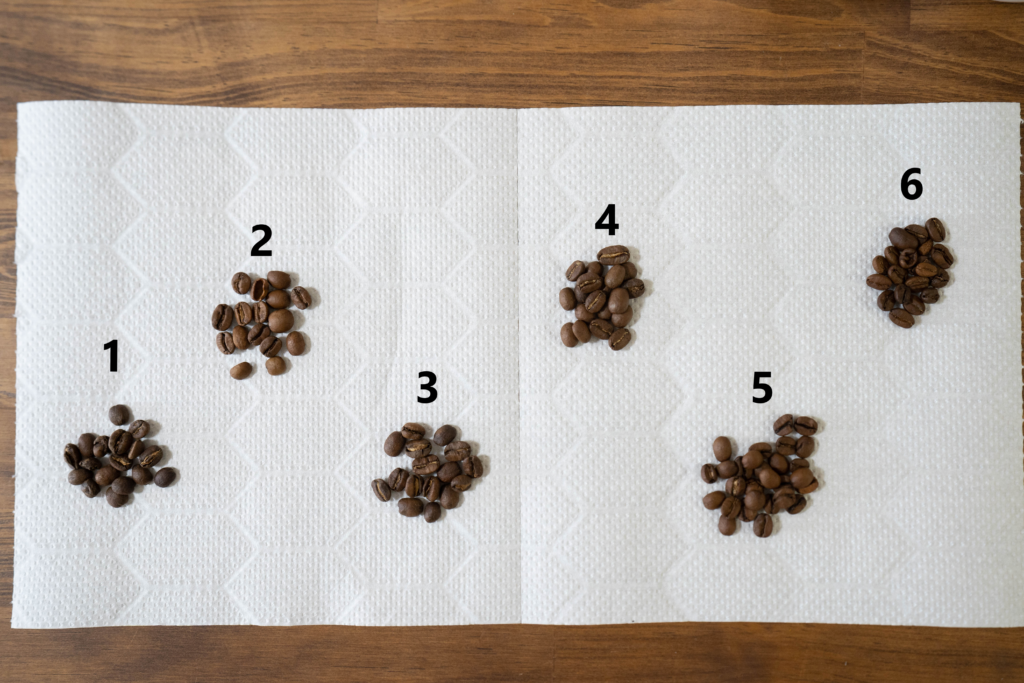 I only had 4 cups for cupping so I decide to use normal coffee cup for other 2 beans.
Process of coffee cupping was below.
1. Measure the beans 10g each.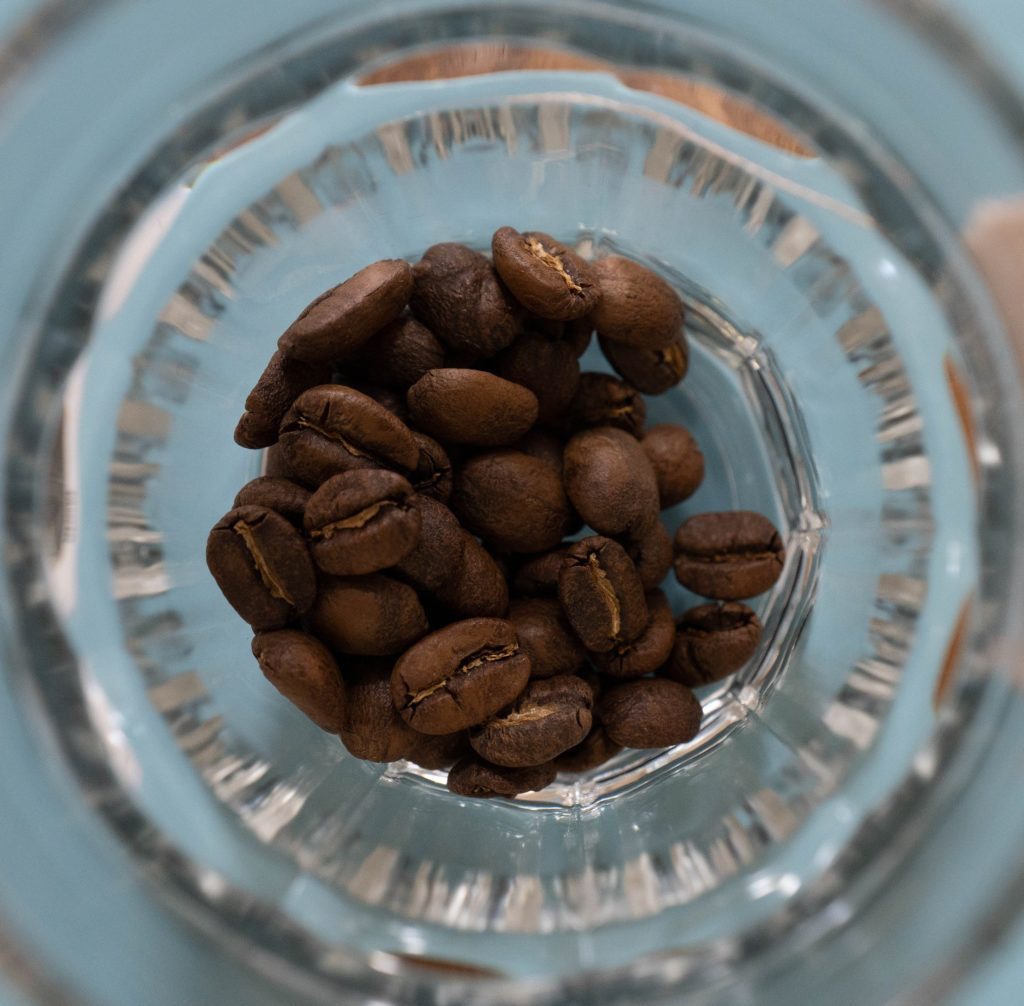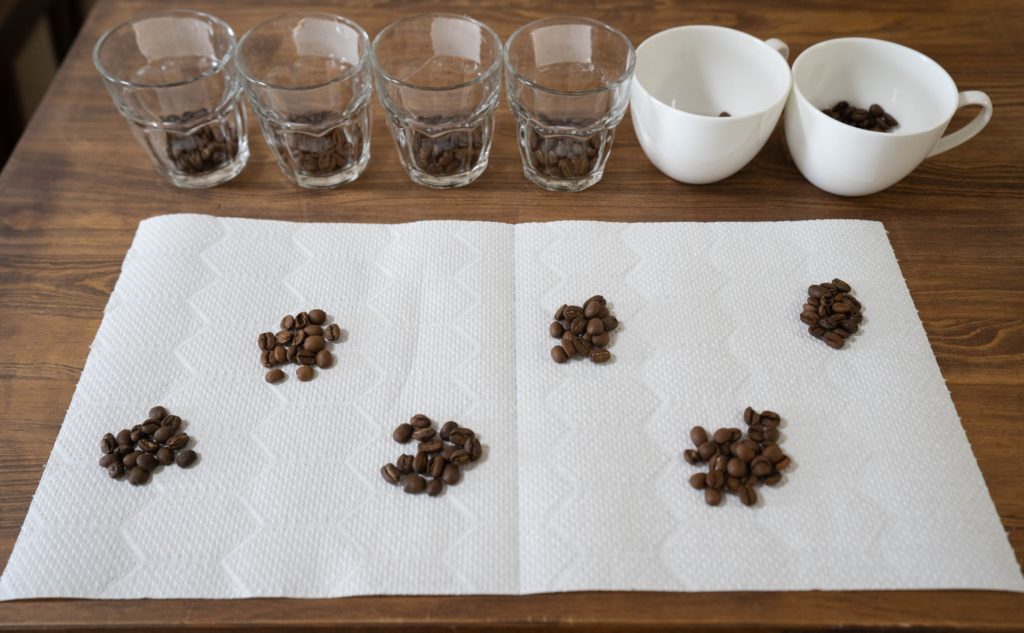 2. Grind the beans with medium-coarse grind. Smell the dry grounded beans.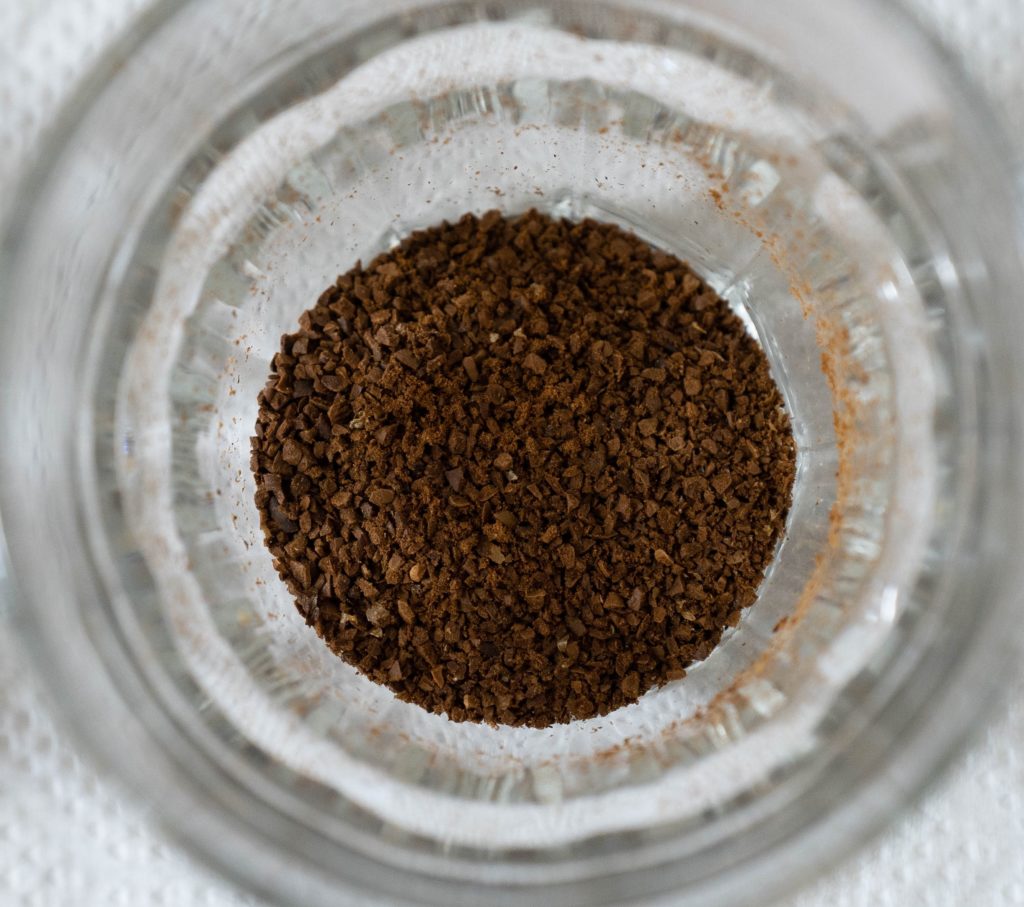 3. Fill up the cup with hot water. Make sure each cup fill up as a same level. And smell each cup.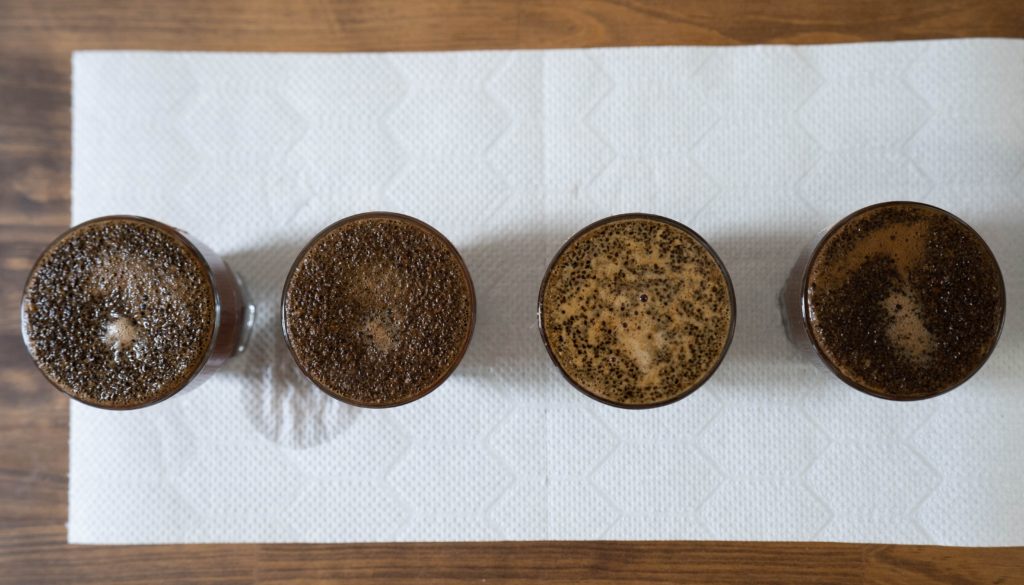 4. Wait 4 mints after fill up the cup, after that Break the crust with cupping spoon and put your nose near the surface to smell the cup.
5. Remove the crust on the top of surface with cupping spoon.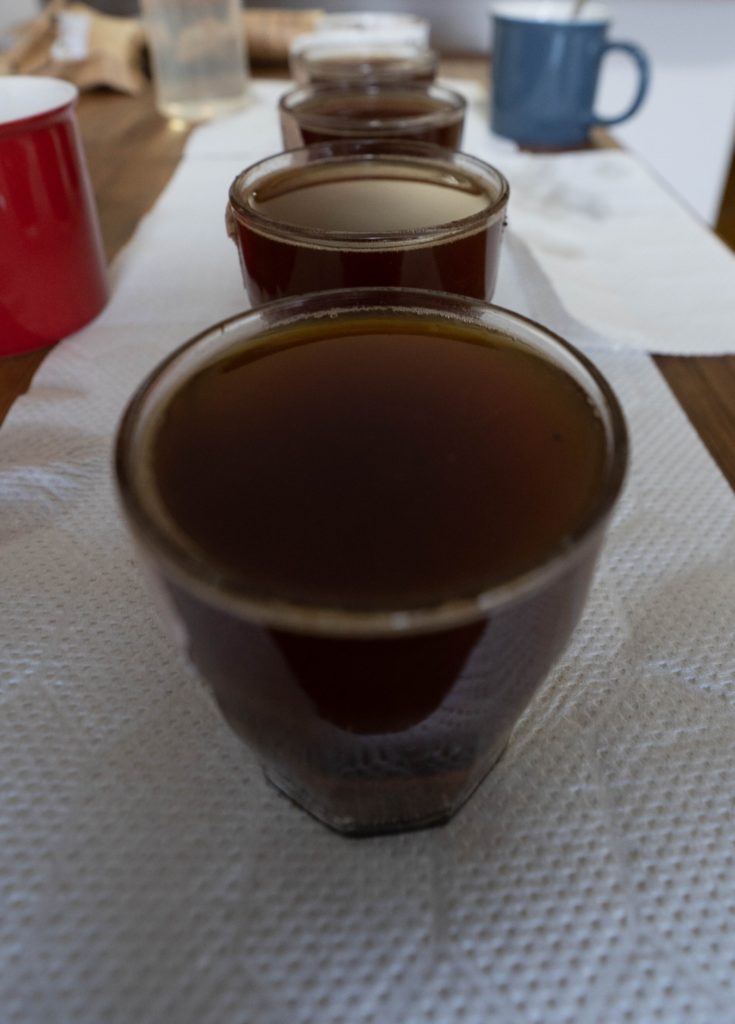 6. Taste the each coffee. Cool down the coffee and you can enjoy the taste difference with each temperature.
With this step, you can enjoy and you will find the different taste between each beans and temperature. You also can try to slurp the coffee like a wine for taste the flavor. It is good opportunity and experience to notice about coffee taste with this cupping.
Taste and flavor was really different with this cupping and it was first experienced to taste Taiwan's coffee beans. It was really interesting flavor and taste.
Each beans had own flavor, however Ethiopia and Brazil were looks medium-light roasted but inside of beans were medium-dark roasted so little bit hard to taste the "flavor". Other 4 cups had nice flavor specially Kenya, Nicaragua and Taiwan had a lot of flavor and taste.
Of cause almost coffee shop is doing this coffee cupping usually, however if I am doing by myself I cannot talk or exchange of idea with some other people so I hope it will be good opportunity for the people who loves coffee. Please join the next coffee cupping if you interested in.
LET'S TALK OVER COFFEE SOON LATER. see ya
こんにちは!今日は2019年9月6日に行ったカッピングについて書いていきます。
実は以前からカッピングを数人で一緒に行いと思っており、ちょうど豆を数種類同時に買っていたので急となりましたが数名募集し行うことにしました。今回はどこのお店の豆を使用したかは記載しませんが、焙煎という作業はコーヒープログレスの中でもとても重要で難しい作業ですし、焙煎されている方々を尊敬しております。
まず最初に、「カッピングってなに?」という点を簡単に説明します。このコーヒーカッピングは味や香り、風味などを確認するための作業として行われます。また確認作業としてだけではなく、数種類の豆を同時にカッピングすることで各コーヒー豆の味の違いなどをハッキリと認識することが出来ます。
今回私は下記の豆を準備しました。(原産国、精選方法、その他情報)
農園や製品に記載がなかったものは載せておりません。
ケニア, ウォッシュド
ニカラグア, ナチュラル
台湾, —
コロンビア,– , ゲイシャ
ブラジル, —
エチオピア, —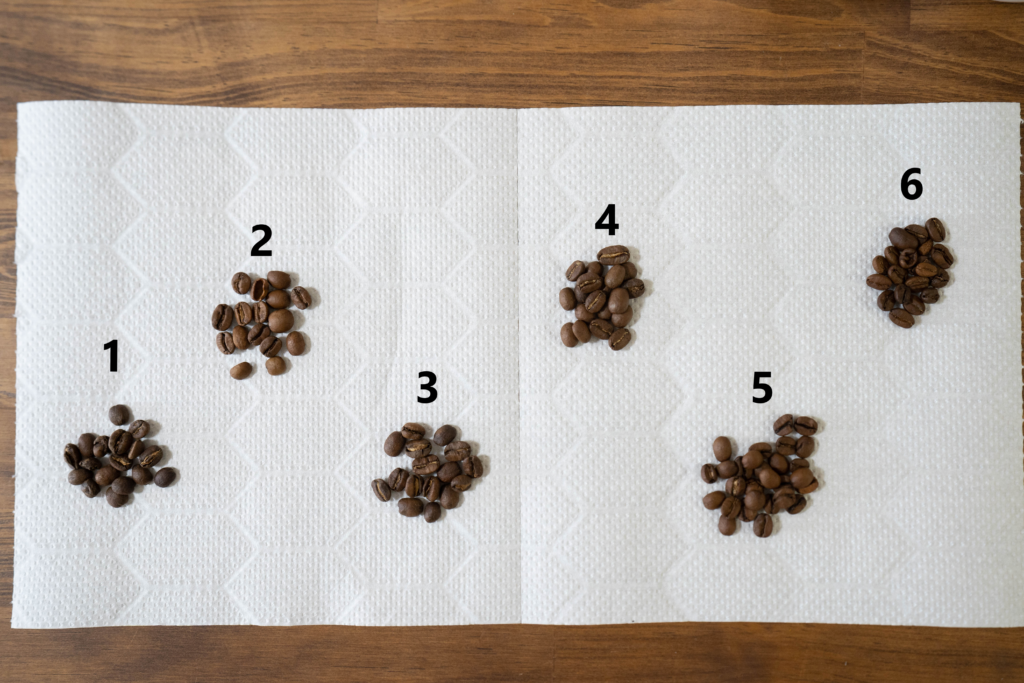 カッピング用のカップを4つしか持っていないので、2つは普通のコーヒーカップを使用することにしました。もちろんお湯の量は同じになるように計測しながら注ぎました。
今回のカッピングのプロセスは下記で行いました。
1. 各コーヒー豆を10gづつ計測。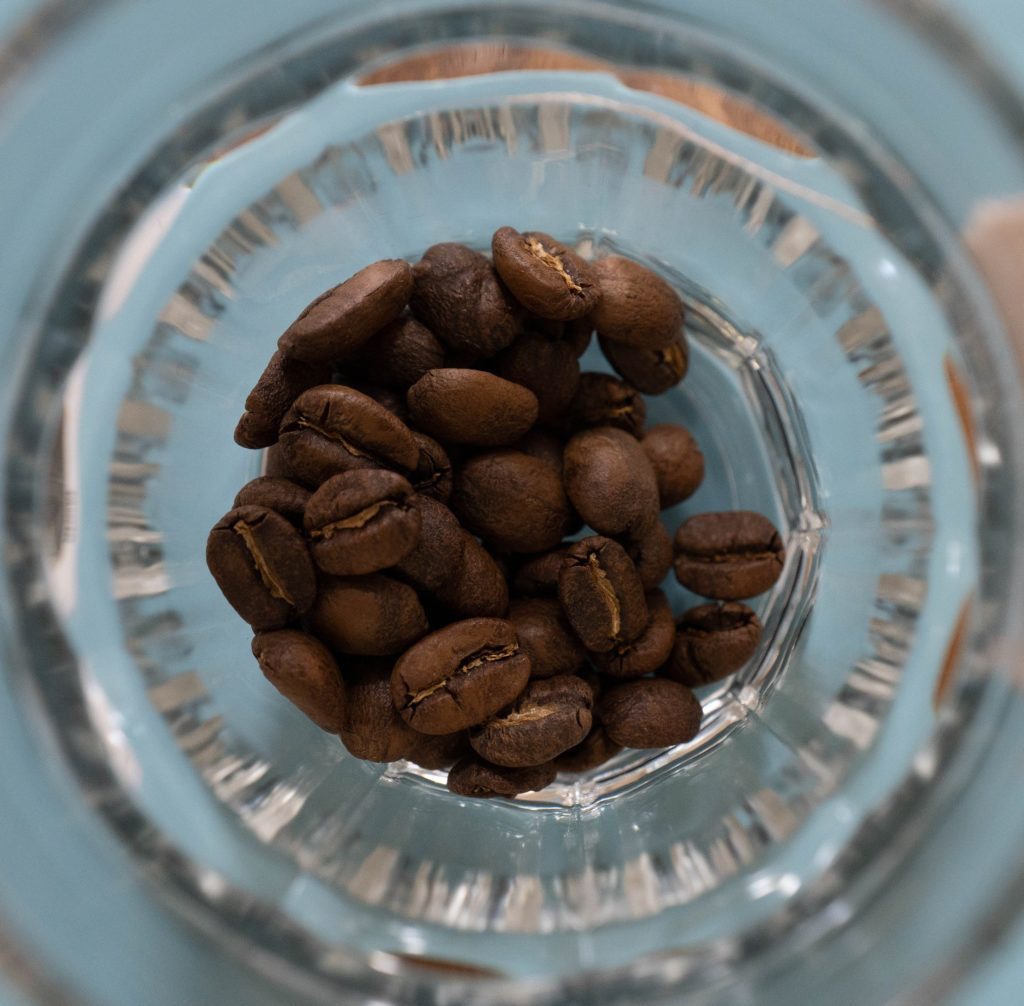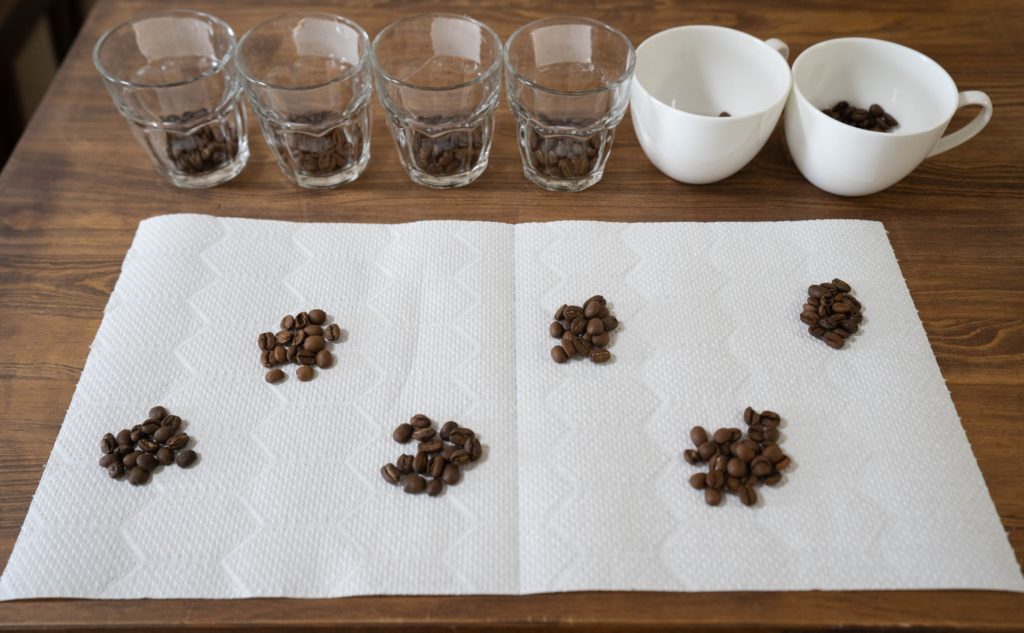 2. 各豆を中荒引きで引き、ドライの状態での香りを確認。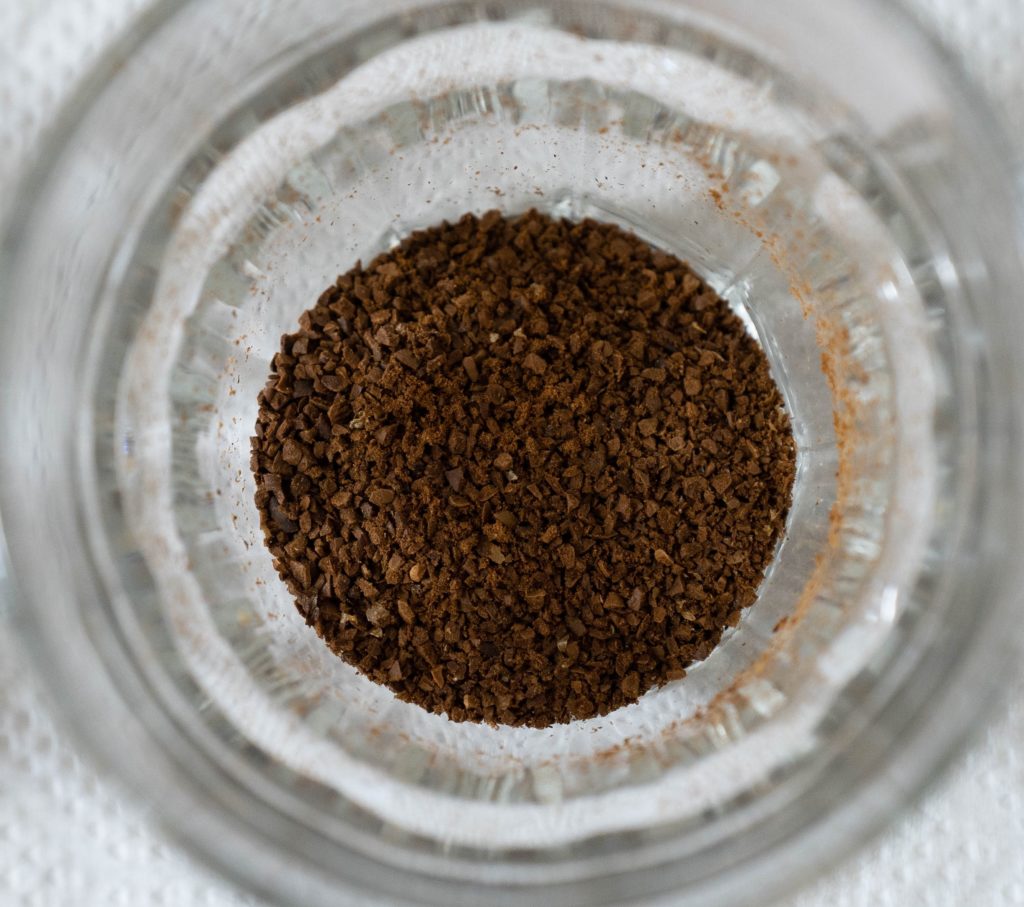 3. コップ一杯にお湯を注ぐ。どのカップも出来るだけ同じ量のお湯を注ぐように心がける。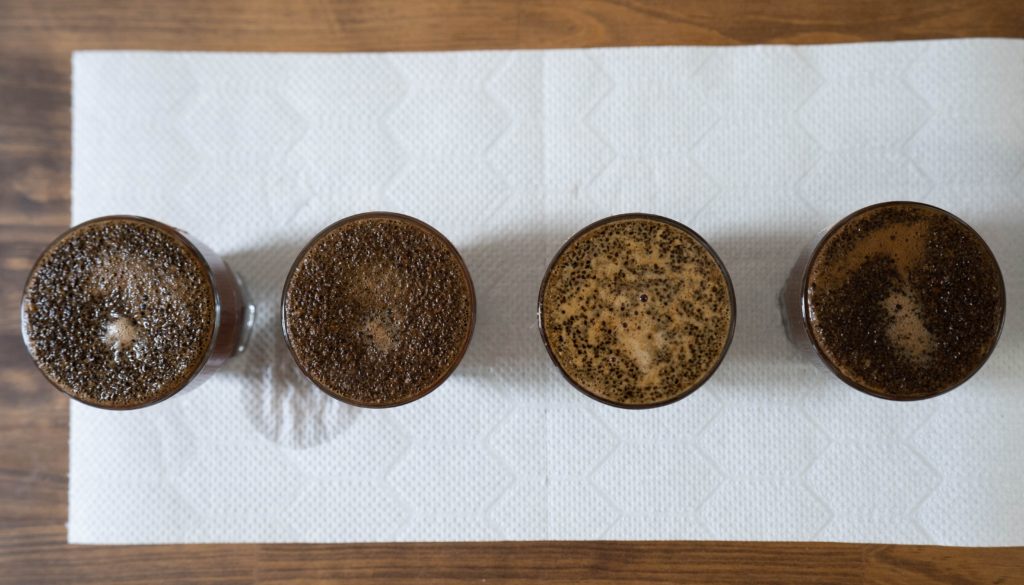 4. お湯を注いでから4分経過後、カッピングスプーンで表面のアクを崩す「ブレイク」を行いながら、表面の香りを確認。
5. カッピングスプーンで表面のアクを取り除く。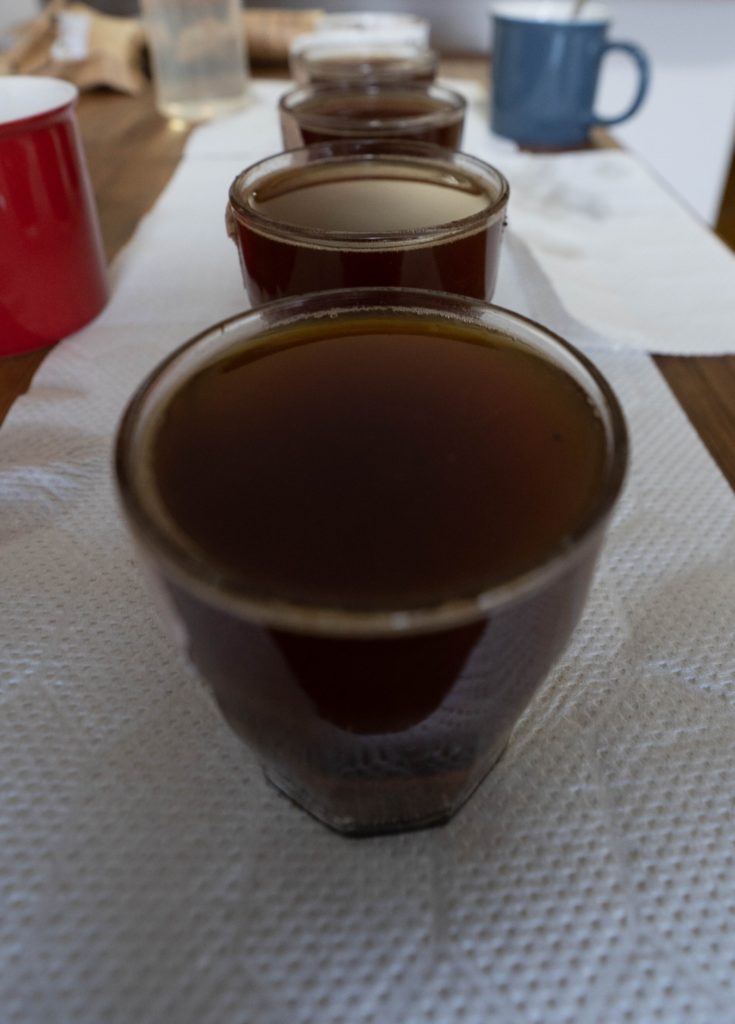 6. 各コーヒーを味わう。
コーヒーは温度が下がっていくにつれ、味わいの変化があるので、時間をかけてカッピングを行うことで違った味を楽しむことが出来ます。
この段階でコーヒーの味わいの違いや温度による変化を発見し、楽しむことが出来ると思います。また、コーヒーをワインのテイスティングのように音を立てて吸い込む事でフレイバーを感じることが出来ます。
カッピングはコーヒーの味の違いを経験するのにとても良い機会になると思います。
今回のカッピングでも味やフレイバー、風味はそれぞれ大きく違いました。特に今回は初体験の台湾産の豆があり、とても良い経験をすることが出来ました。
今回の豆はもちろんそれぞれの豆の特性を感じることが出来ましたが、エチオピアとブラジルは見た目としては中浅煎り程度と思っていたのですが、実際に挽いてみると中深煎りに近くなっていたため豆本来の風味、フレイバーを感じることが若干難しかったです。他の4種類の豆については味わいやフレイバーも感じることができ、特にケニア、ニカラグア、台湾はとても良かったです。
もちろんこのカッピングという作業はコーヒー屋さんなどでは日常的に行われているのですが、私一人で行っても味の評価や感想を話し合ったり交換する事が出来ないので行うことにし、またこれがコーヒーが好きな人にとっても良い機会に出来ればと思っております。また行いますので、興味がある方は是非一緒に行いましょう!
LET'S TALK OVER COFFEE SOON LATER. see ya